Major capital projects:
Top priority for the College:
Arts and Science 'Student First' center: to give students direct and immediate access to the co-located services they need, and a gathering space for collaborations, pop-up performances, readings and conversation.
Currently Arts & Science student services are located on the furthest outskirts of the Arts building, at the entrance to the Edwards School of Business. Various student services exist in hallways in small windowless rooms, and despite having invested money into various signage solutions, we have the perpetual problem of directing lost students towards the "central" student services office, with the best indication being "go by where the vending machines used to be." This renovation will see the co-location of our student advising services, including general undergraduate (and some graduate?) advising, student records services, the Trish Monture Centre for Student Success, the University Transition Program services, transfer credit, and study abroad, on the first floor of the Arts Building, at the campus bowl entrance, and will serve as a main front door for the community into our diverse college. Mostly, "Students First" is about our college family getting to live our ethos, which is that our students will know that they belong, and that this college is truly theirs, and opportunities are unlimited.
Priorities for partnering with the University:
Museum of Natural Sciences Revitalization: Update and redevelop to enhance its standing as a signature feature of this campus: a hub of scientific research, teaching, and outreach; a prime destination for families, school groups, and visitors to the city; and a vital link between the campus and the community. Build on our success in captivating and inspiring visitors, so that it serves as an inclusive space that respects the land we are on and the Indigenous peoples and cultures here.
Science Meets Art, and the Public: "Smart-P" is a project through which university can provide a physical space to engage, excite, and inspire the public in the university's creative scholarly activities Interdisciplinary research and problem solving activities.
School of Architecture and Visual Arts: Participate with central administration on co-creating a strategy for program rollout that is cost-sustainable in terms of phased-in faculty complement, start-up costs, and operating costs, and that attracts new student enrolments to the college; this school requires a capital investment in space and facilities.
Renewal: We anticipate major renewal of five of 'our' buildings: WP Thompson; Physics; Murray; Arts; Thorvaldson through the $85M bond issuance. Anticipated growth and enrolment pressures outlined below need to be considered as renewal plans for these buildings are developed:
We anticipate continued steady growth in graduate student numbers of about 2% per year or 20 additional students per year. Additional space will be required.
We anticipate growth in first-year science classes (Biology, Chemistry, Computer Science, Geological Sciences, Mathematics & Statistics, Physics and Engineering Physics) both to accommodate planned growth in other colleges (Engineering, Kinesiology for example) but also to accommodate demand from our own students. Additional 1st year teaching labs, particularly in Chemistry and Computer Science, will be required.
It remains a priority to relocate the department of Mathematics and Statistics to Thorvaldson.
Minor capital projects:
The need for minor upgrades to college space is continual. As new faculty are hired, lab and studio spaces need to be renovated to accommodate new research, scholarly and artistic work programs. As graduate programs grow and undergraduate enrolments increase, space needs to be converted or modified to accommodate higher numbers. The college allocates $250K annually for this purpose through an application process to the highest priorities as per the afore-mentioned criteria. The college's allocation is leveraged with departmental dollars where possible.
The loss of matching funds from the PCIP minor capital adaptation fund has curtailed our ability to adequately address the needs.
Capital equipment:
We have long-recognized the risk and liability that aging equipment represents. This planning process provided the impetus to attempt to assess the magnitude of the risk with a focus on only those items with a value of $50,000 or greater. A ballpark total replacement value for the equipment fitting this criteria is almost $18M with about $5M of that needing to be addressed within the period of this plan. This equipment resides in eight of our twenty-one departments (Biology, Chemistry, Geography and Planning, Geological Sciences, Mathematics and Statistics, Music, Physics and Engineering Physics and Psychology).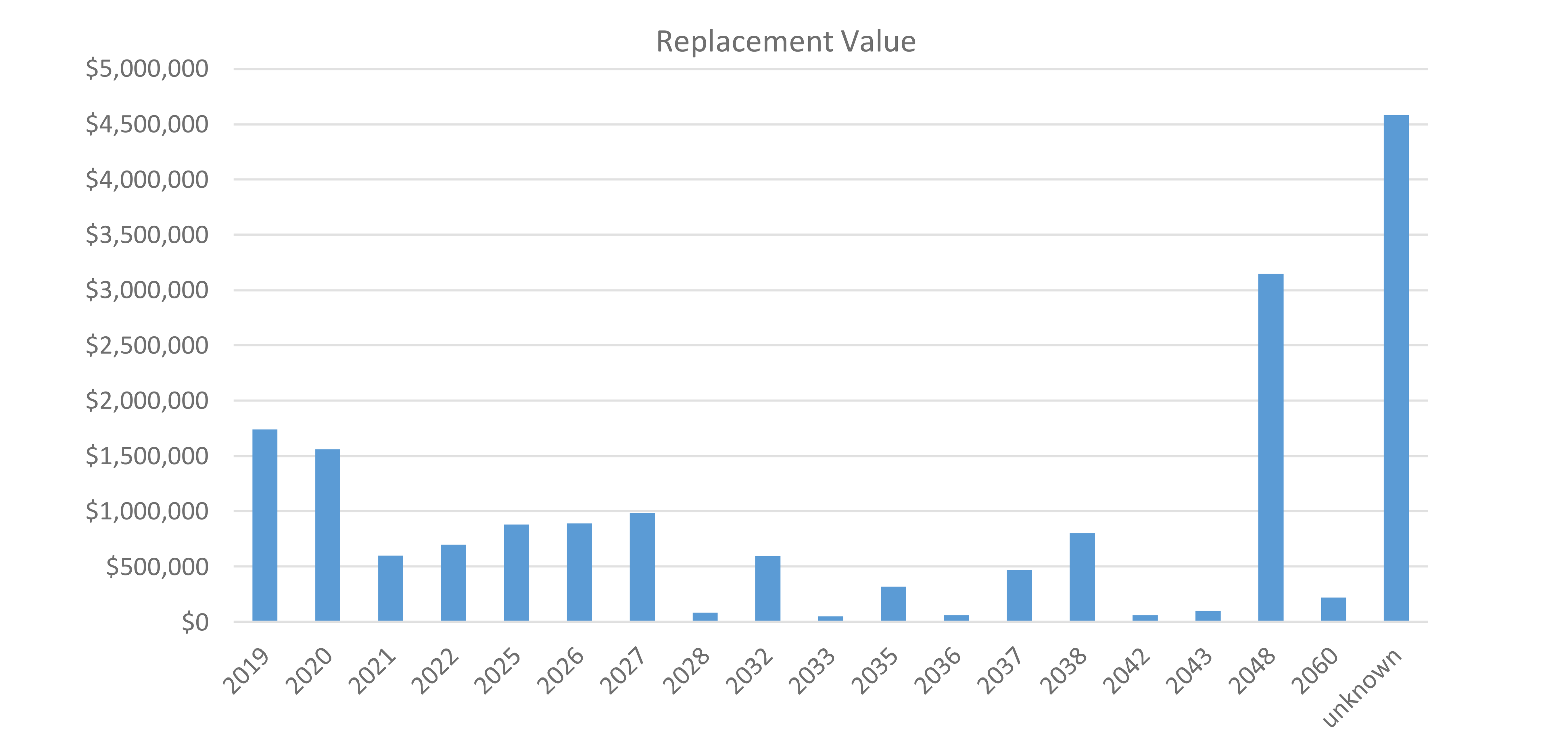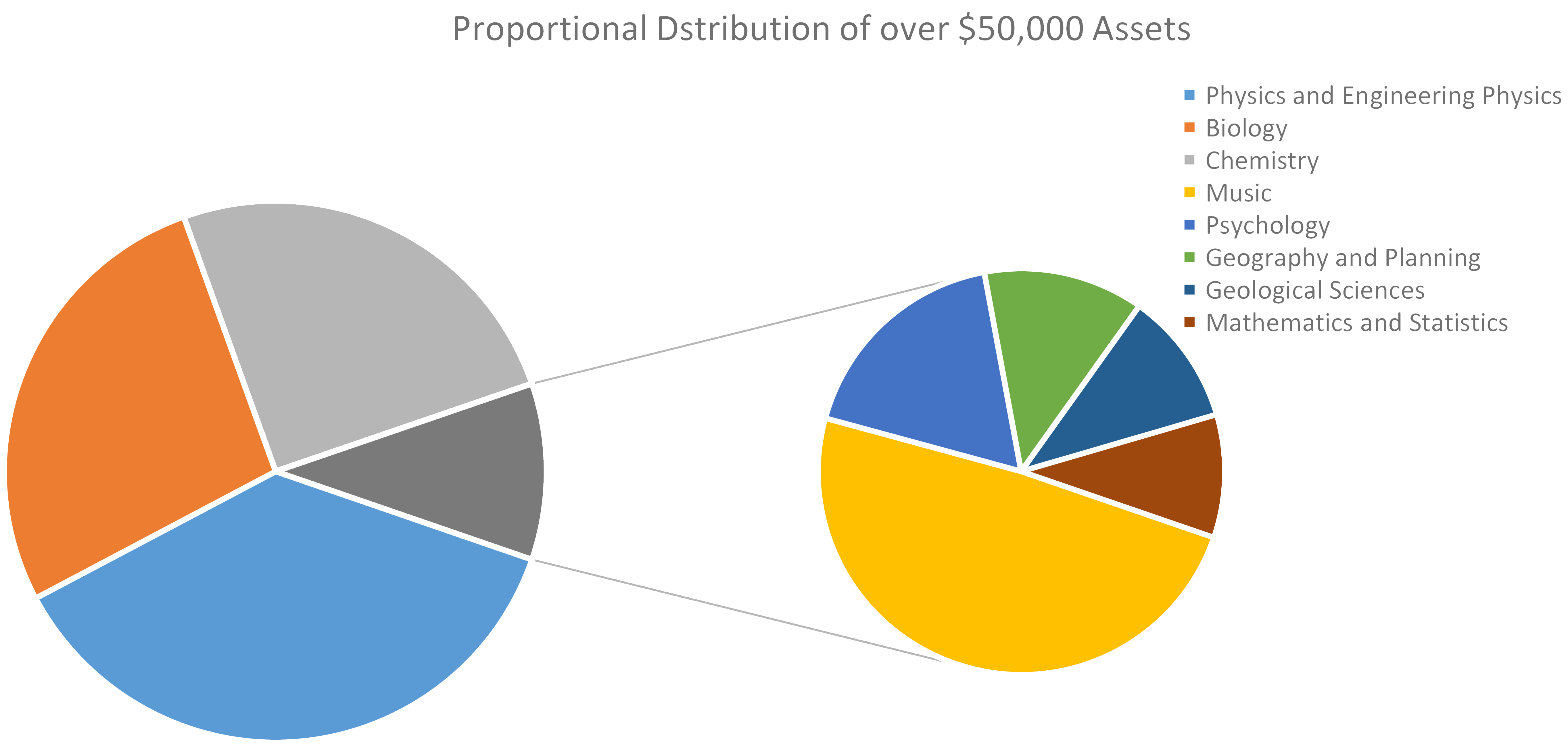 The college has an annual competition to allocate $250K for upgrading departmental equipment with priority given to equipment that is essential for instructional purposes. Again, the college's allocation is leveraged with departmental dollars where possible.