Introduction
Written collaboratively over 2017-18, this draft plan is mindful to create compelling, forward-looking, and ambitious goals, with sustainable and measurable guideposts, that are closely aligned with the University's plan.
The number and methods of consultation have woven a culture of purpose and a positive morale in the College of Arts and Science.
Given the cooperative and enthusiastic participation the college has benefitted from to create this plan collaboratively, implementing it will also be a rich experience.
A&S had several key representatives on the University Plan Advisory Group.
Stakeholders
The next college plan requires input from many stakeholders. We have branched out and the result is at least 100 responses from faculty, staff, students – through email, phone calls, in-person meetings, text messages, on- and off-campus.
A college as diverse as ours has many groups of stakeholders, including:
Alumni
Current students
Donors
Faculty
Prospective students
Provincial government
Public
Sessional lecturers
Staff 
The list below indicates the stakeholders that have been consulted on one or more occasions:
Arts and Science Faculty Council (4)
Associate Vice-President, Strategic Communications
ASSU Student Council
Chair, Teaching, Learning, and Academic Resources Committee of Council
College Directors Committee
College faculty of University Council committees
College Planning Advisory Committee
Committee of Department Heads
Curriculum Renewal Advisory Committee
Deans' Council
Director of Institutional Effectiveness
Executive Director, Community Engagement
Executive Director, International
Expanded Dean's Executive Committee
Indigenous Studies Department (2)
Institutional Planning and Assessment Office
Interdisciplinary Program Chairs Committee
President's Executive Committee – each member
Provost's Committee on Integrated Planning
Regional Colleges
Research, Scholarly, and Artistic Work Advisory Committee to the Vice-Dean
St. Thomas More faculty
Undergraduate Student Office
University Plan Advisory Group
Vice-Provost Indigenous Engagement
Vice-Provost Teaching and Learning 
Consultations with Indigenous stakeholders 
The university plan consultation included Indigenous elders and knowledge-keepers, and the Aboriginal Advisors' Circle.
The Department of Indigenous Studies has provided advice and feedback.
A&S will work very closely with the new Office of Indigenous Engagement.
Our Vice-Dean Indigenous consults regularly with the new committee to Indigenize Research, Scholarly and Artistic Work, and with college faculty on Indigenous Learning Requirement Committee.
We have a plan to invite a discussion with External Indigenous community leaders – and the timing needs to be right. We will ask for advice on the theme of retention – of employees, and students.
Consultations
The process of achieving endorsement for the draft plan involved working closely with the Committee of Department Heads, the Expanded Dean's Executive Committee, the College Planning Advisory Committee, and holding a Special Meeting of Faculty Council in March 2018, which was informed and instructed by a sequence of consultations.
College faculty, staff and the Arts and Science Students' Union (ASSU) had several opportunities to provide feedback on multiple drafts, and over a hundred responses were received in this iterative process.
We began in summer 2017 by hosting roundtables with college faculty of University Council committees and the University Council Chair to discuss how college strategies and priorities were aligned to the draft institutional plan, and following this, we conducted a gap analysis.
We decided that the college would follow the three commitment areas and goals set out in the institutional draft plan, that we would apply lessons learned from the Third Integrated Plan, and that we needed to convene micro and macro consultations, because we wanted our rich diversity of stakeholders to see themselves in the plan.
We went forward collaboratively and "in a good way" to provide for ongoing, continuous relationships, trust, and a wide array of opportunities for participation.
Important to our progress were the regular check-ins with Institutional Planning and Assessment (IPA) on the college's plan process and drafts.
The Dean provided four major updates to Faculty Council in 2017-18: a written report in October, a presentation in December, and another at a March Special Meeting convened for this purpose, and a written report in May.
The Committee of Department Heads discussed the college plan at several of their monthly meetings, and received presentations.
The Dean's Executive Committee held planning discussion meetings in both terms with the Provost and Vice-Provost Academic, and the Associate Provost Institutional Planning and Assessment.
The Dean formed a College Planning Advisory Committee (CPAC), which met six times over Term 2. Using the Strategic Planning Toolkit provided by IPA, CPAC edited the draft plan, advised on consultation and communication plans, and worked directly with the draft plans of the revenue and support centres on campus to identify areas of complementarity.
In late January 2018, the Dean presented the college draft plan at retreat of Deans' Council and the Provost's Committee on Integrated Planning.
Specific meetings were held with the Undergraduate Student Office, including University Transition and Trish Monture Centre staff, all college directors, the ASSU Council, the college's Curriculum Renewal Advisory Committee, and the Department of Indigenous Studies.
We conducted a daylong Dean's Executive Committee resiliency retreat about college planning. We discussed planning at the annual college leadership retreat at August 2018.
In the spring and summer 2018 we consulted with regional colleges and bolstered our communications plan.
With IPA, we will choose metrics to judge progress toward the goals and to articulate the achievements by which the success of the plan will be measured.
Each member of the Dean's Executive Committee will create summaries of their portfolios, with accompanying targets, as IPA has requested.
We are planning to invite a discussion with external Indigenous community leaders, and ask for advice about the plan.
The college planning advisory committee met in September 2018.
The dean led two college planning 
town halls
in September 2018.
The dean will discuss the college plan at Heads Rounds Table in October 2018.
College Faculty Council endorsed this plan at its regular meeting on October 4, 2018.
Timeline of Planning Cycle
Components of the U of S Planning Framework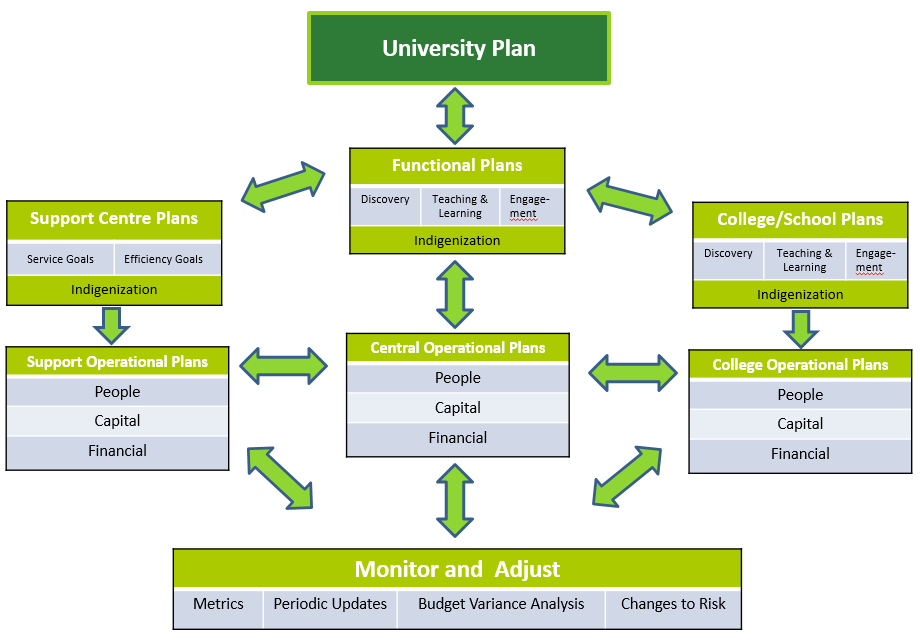 Environmental Scanning
Environmental scans require an analysis of the current situation prior to creating strategic plans.
The internal and external environments that the college operates within is assessed to identify future opportunities and potential barriers or threats to enhancing teaching and learning, research and discovery, and outreach and engagement.
Besides analyzing its own internal environment, we need to consider the overall U of S landscape to identify what we are doing well and what needs improvement. We also need to consider how outside influences can impact our college plan.
Resources include:
Assessment Framework
This section is under development.
The college will consider the following items for planning areas:
Goals

Strategic goals related to the planning area and consider how they align with priorities in other planning areas

Objectives

Objectives that relate to achieving our goals

Strategic Initiatives

The actionable items are required to achieving our objectives

Resources Required

Annual requirements vs. multi-year requirements.
Ongoing vs. finite resources.
People (faculty, staff), Capital (lab space, buildings, etc.), Financial support.

Metrics/Key Performance Indicators

How do we evaluate our plan?
What metrics are needed to determine key performance indicators (financial and non-financial)